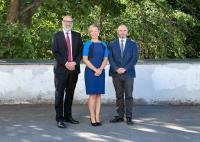 Dr. Heimeier, Principal
Dr. Heimeier has been the Principal for Internationella Engelska Gymnasiet since August 2013. Previously, she inaugurated, as Principal, Internationella Engelska Skolan in Uppsala, a middle school for students in grades four to nine.
Mr. Theding, Assistant Principal
Mr. Theding is originally from Sundsvall and has been working at the school since 2002. He taught Swedish and Swedish as a second language and joined the Leadership team in 2013 as Academic Manager. Since 2015 he has been the Assistant Principal. Mr. Theding is a qualified Principal after completing Rektorsprogrammet at Stockholm University.
Ms. Hall, Student Care Manager
Ms Hall graduated from the Institute of Education, London University, in 1992 as a History Teacher. She has taught in inner London, working in a variety of different roles. In 2008 Ms Hall became an Assistant Head Teacher taking responsibility for both the curriculum and pastoral areas. Ms Hall is currently the Student Care Manager.
Mr. Hemingway, English and Philosophy Teacher, Academic Manager
Mr. Hemingway is from the UK. He holds a degree in English along with a teaching qualification. He teaches English and Philosophy, and is also the Academic Manager at IEGS.