Departments
At IEGS We strive to nurture Lifelong learners who embrace Challenge, and who are Brave and ready to Explore.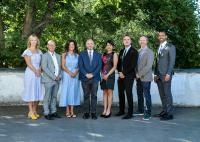 Embrace Challenge. At IEGS we believe in the value of the process, not just the outcomes. We encourage you to reflect on your learning, set goals and improve. You will be given the skills to embrace challenge, take academic risks and learn from your experiences. 
Global Citizens. We are an international learning community of students and teachers, and by showing compassion and empathy, we aim to foster responsible global citizens.
IEGS is also a research and data driven school, where we collaborate to continually improve the quality of our instruction.
At IEGS we promote scholarly and critical thinking in English. It is our aim that every student develops their critical faculties during their three years at the school. We have seven departments, each with a Head of Department, that help support teachers with course content and teaching objectives.
Learning Journey. Our Teachers are committed to supporting you in your learning journey. We believe that every student has the capacity to develop intellectually, personally and morally. 
Know Our Students. We aim to Know Our Students through a student-centred learning approach. We prompt you to be curious and to explore ideas independently and in collaboration with your teachers and classmates. 
The Social Science Department at IEGS offers an exciting and diverse pre-university program that prepares students for university studies in the social sciences, as well as law. The Department is, by its nature, interdisciplinary and the subjects taught in the department include Civics, History, Geography, International Relations, Religion, History of Culture and Ideas, Psychology, Business and Law. 
The Modern Languages Department teaches a variety of languages at all levels, from beginners to more advanced: French (level 1-5), German (level 1-5), Mandarin (1-3) and Spanish (1-5). Please note that the language levels offered are dependent upon number of students who choose this elective.
In addition, our department also coordinates the teaching of a wide range of mother tongues as requested by our multicultural student community.
Our staff are all native speakers in their respective languages. They come from China, Colombia, France, Germany, Italy and Spain, and are qualified teachers.
Acting as IEGS's hub for creativity and physical performance, the Department of Aesthetics and Human Performance (AHP) offers a range of academic and practical courses. These courses enable students to develop genuine life skills that they will draw upon in both their future academic studies and their professional career paths. The Department of AHP incorporates three key subject areas, namely Art, Drama (Theatre) and Physical Education.