International Baccalaureate (IB)
An internationally recognised programme of education, designed to help you develop excellent breadth and depth of knowledge.
"I thoroughly enjoy our class discussions, particularly as a mostly humanities student. Teachers act as mentors who guide you, but let you form your own thoughts and opinions. Even if I disagreed with someone or was taken aback by their ideas, it was so interesting to listen to one another. Not only did this help in widening my understanding of the topics, but I also feel like a more well-rounded person because of it. ​​​​​​"
Nargis, IB Student
International Baccalaureate Mission Statement.
The International Baccalaureate aims to develop inquiring, knowledgeable and caring young people who help to create a better and more peaceful world through intercultural understanding and respect.
To this end the organisation works with schools, governments and international organisations to develop challenging programmes of international education and rigorous assessment.
These programmes encourage students across the world to become active, compassionate and lifelong learners who understand that other people, with their differences, can also be right.
The International Baccalaureate Diploma Programme (DP) is an internationally recognised academic programme.
The IB programme prepares students for university studies abroad and in Sweden. Since its inception the programme has gained recognition and respect from the world's leading universities.
Quality assurance and professional development.
Any school wishing to offer the Diploma Programme and attain IB World School status must first go through the authorisation process. The process is designed to ensure schools are well prepared to implement the programme successfully. Schools are required to participate in an on-going process of review and development, using standards and practices that apply to all IB World Schools.
Internationella Engelska Gymnasiet is a fully authorised IB School for the DP. Only schools authorised by the IB as IB World Schools can offer any of its three academic programmes: the IB Primary Years Programme (PYP), the IB Middle Years Programme (MYP), or the IB Diploma Programme.
The three requirements of the core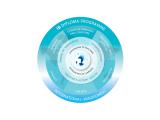 Theory of Knowledge
is taken by all students and is designed to encourage each student to reflect on the nature of knowledge by critically examining different ways of knowing (perception, emotion, language and reason) and different kinds of knowledge (scientific, artistic, mathematical and historical).
The Extended Essay
is an in-depth study of a question relating to one of the subjects they are studying.
Creativity, Action, Service
requires that students actively learn from the experience of doing real tasks beyond the classroom. Students can combine all three components or do activities related to each one of them separately.