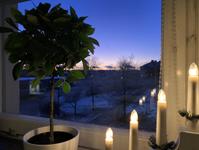 As the holiday season creeps in, an Autumn Term flies by
The last school day of the year has arrived. The school is soon empty and dark, and silence will echo in the classrooms and corridors. Soon the clock will chime and we will leave 2019 behind us and we will move into a new year, 2020, with new challenges, promises, laughter and warmth. 
I would like to take a moment to THANK YOU students and staff for a busy and memorable Autumn term. 
As educators, we have collaboratively worked in ways to encourage our IEGS students to be reflective in their learning journey as they continue to develop as learners. We strive to encourage our students to be independent, to think deeply across disciplines and beyond national boundaries so as to prepare them to be global citizens that appreciate cultural diversity. 
This term, our students introduced us to a new "Pitch Perfect" Inter House Competition (IHC), and our Dance IHC was moved earlier in the school year so we could recognise and celebrate diversity within our school. This was a special day, and coincided with United Nations Day reminding us of their purpose to promote peace and cooperation around the world. Seeing our Dance IHC gave me new hope in our future generation; they can contribute in bringing peace and change in our world.
At the beginning of the school year, I shared the 17 goals for the 2030 UN agenda for Sustainable Development to both students and staff, and posed the question on how could we as a learning community contribute in actions small and large at our school to the achievement of these goals. As the festive season is upon us, I am thinking about these goals, and how during the term, I have been impressed with the contributions we are making so far at IEGS.
Towards Goal 3: Good Health and Well-Being. Our first year students have been engaged in the European Commissioned Research project, the BigO. Whilst our Student Care Team have led proactive educational initiatives to raise awareness in our community about the importance of good health and healthy lifestyles.
Towards Goal 4: Quality Education. At IEGS we promote a safe and calm learning environment where teachers can teach and students can learn. In doing so we foster an inclusive learning environment where students can achieve their goals and become the best versions of themselves. This is our 20th anniversary of celebrating the quality education we have, and continue to, deliver to thousands of students in the Stockholm metropolitan area. I am also happy to say that we were invited to the International Bacculaureatte Global Conference in Abu Dhabi in late October, to share how we as educators work with our students in our school. 
Towards Goals 12 &13: Responsible Consumption and Production & Climate Change. Our food council, our green team, our custodians and teachers are working to reduce food waste, reduce printing and to make changes in our ways of working to promoting resource and energy efficiency in our old school building and a greener school environment. I can only imagine how much more we will contribute to the 2030 UN agenda in the Spring Term.
But now, the holiday season is here, and it is time to relax, reflect, celebrate and be with family and friends. Whatever you do, wherever you are, I wish you a wonderful holiday and a very happy new year. I look forward in seeing you back at IEGS in 2020!
Dr Heimeier