Programme:
International Baccalaureate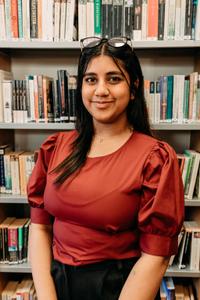 My name is Ritika Aftabi and I'm in the IB Diploma Programme. I'm a very social person and enjoy meeting new people and having new experiences. I like to think I'm open-minded and curious, I enjoy trying new things. I'm really into philosophy and literature and hope to study Law in the future.
What do you like best with your programme?
What I like most with the IB Diploma Programme is how diverse and broad it is. IB gives you the opportunity to meet a lot of people from different paces in the world since it's an international programme and it's also very broad in its content. All subjects we learn are centred around current global issues and other things that make the learning experience more fully-rounded.
What is it like to be in your programme and why did you pick it?
IB is hard but worth it. It's a fast pace and a course you truly have to interact with to properly learn but it's something your teachers train you to do with time. I picked IB primarily because of the opportunities it gives to study abroad but now I'm thankful that I picked it because of all the lessons it's taught me and because of the way it opened my eyes to the world around me.
What house are you in and what is it like to be in a house?
I'm in King House and am currently one of the four house captains. I absolutely love the house system. It's a clever and fun way to create a sense of community amongst students and it makes new students feel very welcome. It gives you the opportunity to create friends out of your class and opens many social doors.
What do you like most about IEGS?
The best thing about IEGS, besides the incredible teachers, is the house system. Having four houses that compete with each other and having events to look forward to is a big part of what creates our positive school environment.
What was your first day like at IEGS?
My first day at IEGS was scary at first. I felt like a lot of people in my class knew each other since before and felt intimidated by that. We played some icebreakers and in time I realised that my new classmates weren't as scary as I thought they were. Through a lot of bonding events, most of which were house events, I got to know my classmates really well and now call a lot of those people my best friends.