Natural Science
The Natural Science Department at IEGS has a tradition of success and has established an excellent relationship with some of Sweden's top university science departments.
The science department represents a variety of international science backgrounds and expertise that enriches students' science education.
The students studying the Natural Science Programme at IEGS have been specifically selected by the Karolinska Summer Research Program to participate in their summer school. No other Swedish school has placed more than 1 or 2 students each year. 
The courses taught in the department encourage students to develop the following:
An ability to think in a manner which is logical, critical, creative and independent
An ability to observe natural phenomena objectively and draw conclusions from these observations
An understanding of the process of science and its use as a tool to help solve personal and societal problems
An understanding and appreciation of our limited natural environment and a concern for its protection and future
A realisation that science is not only a body of knowledge and understanding but is also a search for knowledge
An ability to integrate science, technology, and society
An understanding of the interdependence of natural sciences with mathematics and the humanities
The realisation that in order to become life-long learners and make meaningful contributions to society, we must not only learn and understand science but also must do science
In short, IEGS science students are informed citizens, prepared by their education to deal responsibly with science-related social issues, aware of the nature and scope of a wide variety of science and technology-related careers.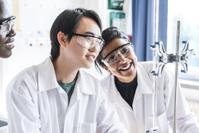 Teachers
For students who aspire to scientific careers, the department provides the knowledge appropriate to their needs, preparing them to study science in higher education.